...woah, Woah, WOAH!! The
2015 Urban Agriculture Fair
was da BOMB, thanks to a small but tireless group of volunteers, including Alvin, Ariana, Dan, David, George, Itsy, Khrysti, Mary, Myles, Natalie, Orion, Samil, Varsha, and more!
And many thanks to the staff and volunteers at the Loring Greenough House, our hosts for the third year running.
~ ~ ~ ~ ~ ~ ~ ~ ~ ~ ~ ~ ~
You can stop biting your nails -- the wait is over!
The contest and judging results are in!!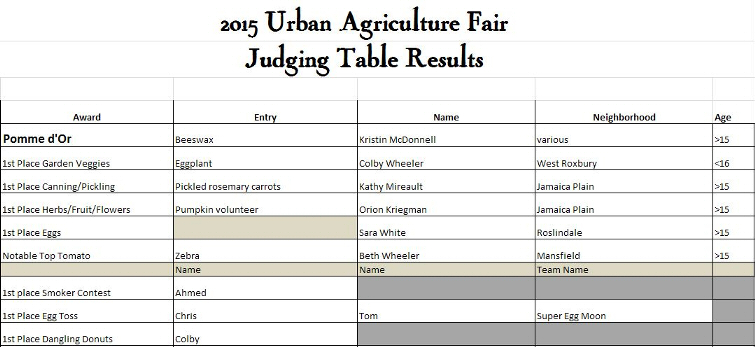 Several of Jamaica Plain's finest and friendliest small businesses donated prizes for our winners, including: The Haven (great Scottish food, drink & banter), Boing! Toy Store, City Feed & Supply, Ula Cafe, and Yumont True Value Hardware.
And, last but definitely not least, a very appreciative THANK YOU to our team of judges; Margaret Connors, Alex (chef extraordinaire at The Haven), Nataka & Bobby (Urban Farming Institute), and Kalise (The Food Project). Judging is unimaginatively tricky and time consuming. You were FANTASTIC!